SERVICES
task force on climate-related financial (TCFD) disclosures
The Task Force on Climate-Related Financial Disclosures, TCFD is a market-driven initiative, set up to develop a set of recommendations for voluntary and consistent climate-related financial risk disclosures in mainstream filings.
TCFD framework based reporting is fast becoming a de-facto standard within the investment and finance communities as a means of analysing and disclosing their exposure to climate risk. It helps investors, businesses and financial institutions evaluate the climate risks in their decisions. The impact is greater on companies that have large emissions footprint across their value chain.
The growing support for the The TCFD framework has over 850 public supporters globally, the majority of which are investors and financial institutions. This presents a potential risk to businesses by not disclosing exposure to climate change risk
Review of Emissions

Review of emissions estimation method and data for Scope 1, 2 and 3 emissions across the value chain

Baseline Assessment

Review of current performance of the company against climate change strategy checklist
Develop the Roadmap for TCFD Disclosure compliance

TCFD-Consistent Risk Analysis

Develop potential climate change scenarios, assess climate related risks in workshop mode
Quantify the financial impact of climate related risks

Reporting

Reporting on the methodology employed in analyzing climate related risk analysis and its results,
Final report on the TCFD disclosure for inclusion in the annual report.
CORE ELEMENTS OF RECOMMENDED
CLIMATE RELATED FINANCIAL DISCLOSURES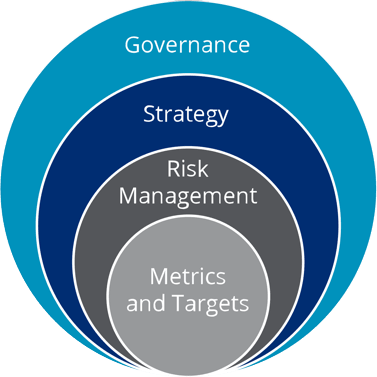 Governance
The organization's governance around climate-related risks and opportunities.
Strategy
The actual and potentials impacts of climate-related risks and opportunities on the organization's businesses, strategy and financial planning.
Risk Management
The processes used by the organization to identify, assess and manage climate-related risks.
Metrics and Targets
The metrics and targets used to assess and manage relevant climate-related risks and opportunities